Optimizer Invest becomes the largest owner of Mytaste Group and invests heavily in performance-based marketing.
The deal is the starting point for creating a new platform for lead generation companies within new exciting verticals.
Optimizer Invest has today signed an agreement for a directed issue of shares and warrants in the public company myTaste AB (publ) (Mytaste Group or the Company), thereby becoming the largest owner of the Mytaste Group. The company is a leader in performance-based marketing (so-called lead generation or affiliate marketing), within primarily e-commerce and food. Mytaste Group has approximately 25 employees and the company is listed on the Nasdaq First North Premier in Stockholm.
The deal is carried out in such a way that Optimizer Invest subscribes for 6,862,745 shares corresponding to a capital of approximately SEK 17.5 million and 5,084,746 warrants in a directed issue in the Company. The warrants entitle the holder to subscribe for another 5 084 746 shares in the Company within a nine-month period, corresponding to a capital of approximately SEK 15 million. With full exercise of the warrants, this means that Mytaste Group will receive capital of approximately SEK 32.5 million.
Petter Moldenius, CEO of Optimizer Invest, comments:                                               "Optimizer Invest is an expert in building companies within lead generation, and we want to leverage our experience in areas that don't compete directly with our portfolio companies. In Mytaste Group we found a perfect partner to do this."
Andreas Friis, CEO and founder of Mytaste Group, comments:                                            "We haven't actively been looking for a new main owner, but when we came in contact with Optimizer Invest it was obvious. Accessing their know-how and network will create a great value ​​for us. Together we will accelerate the Mytaste's growth and form a base to add more companies."
The investment in Mytaste Group is the largest ever for Optimizer Invest.
"Mytaste Group has made an impressive journey and we see a significant opportunity to develop something bigger together. We have great faith in the company's founders Andereas Friis and Jonas Söderqvist," concludes Petter Moldenius.
Press images: https://publish.mynewsdesk.com/se/media_bank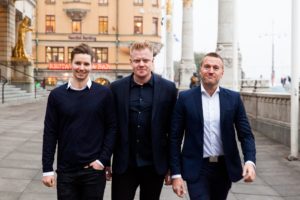 For more information, please contact:
Petter Moldenius, CEO Optimizer Invest Ltd
E mail: petter@optimizerinvest.com
Phone: +356 99352694
Website: optimizerinvest.com
Andereas Friis
CEO/Founder myTaste AB (publ)
E mail: andereas.friis@mytaste.com 
Phone: +46 (0) 739 944 670
Website: mytastegroup.com